On August 18, 2019, the 26th Annual Parkersburg Homecoming Chess Tournament was held in Parkersburg, WV. Twenty-eight players from WV, OH, PA, and NY, with ratings of all levels from beginner through master and all ages including children and seniors, gathered for 9 hours at the Blennerhassett Hotel to compete in 4 rounds of chess competition. The tournament was directed by United States Chess Federation Senior Director Bob Greer, Assistant Tournament Director/Organizer Patrick Kelly, and Assistant Tournament Director, Matthew Ellis.
Results:
1st Place Tie with 4 points and 1st Place Trophy based on tie-breaks
Thomas Magar, N. Versailles, PA
This was the 8th time that Tom has finished in First Place in the Homecoming.
1st Place Tie with 4 points and 2nd Place Trophy based on tie-breaks
Lewis Sanders, Charleston, WV
Upset Trophy – player who wins against a higher rated player (greatest difference in the ratings)
David Hundley, Beckley, WV
Class Prize for Rating under 1900 with 3 points
David Hundley, Beckley, WV
Class Prize tie for Rating under 1600 with 2.5 points
Steven Aguilar, Vienna, WV
Richard Hayes, Bethesda, OH
Class Prize for Rating under 1300 with 2 points
Benjamin Lin, Pittsburgh, PA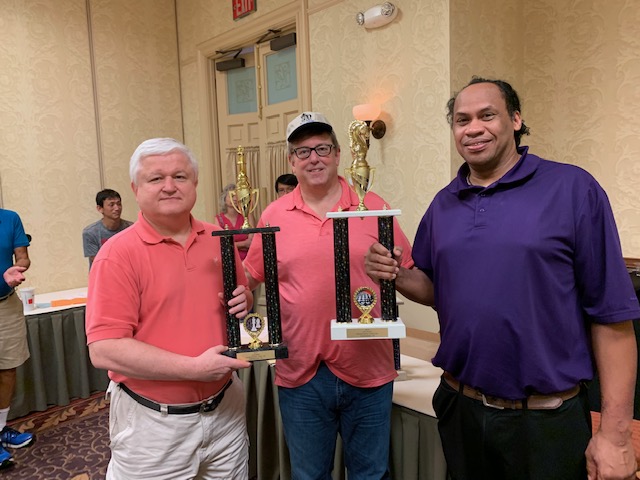 Bob Greer presenting the trophies to the winners Thomas Magar (L) and Lewis Sanders (R)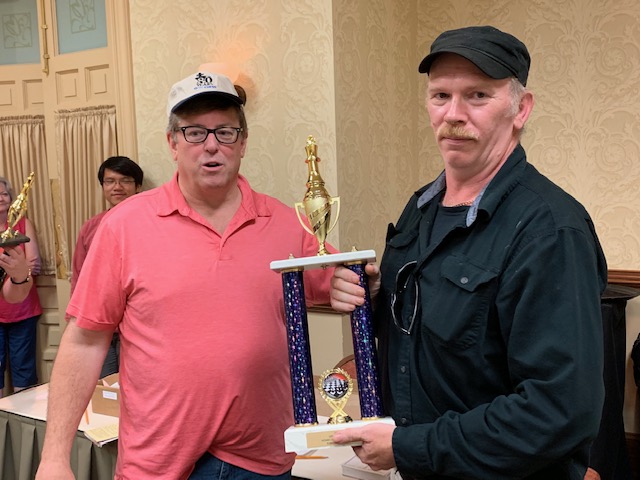 Bob Greer presenting the upset prize trophy to David Hundley